Rent Storage
Browse our available units. You can book a unit online by selecting the size and payment option and then clicking the rent now link. If you need help please call: (434) 444-1735 for assistance.
There shall be no refund on any monthly rental for a lease agreement terminated before the end of the month (calendar) or your individual monthly cycle if applicable.
Do NOT move into a storage unit not peviously assigned to you without speaking to us!!!!!
5x10's (5.0x10.0x10.0)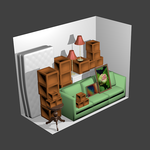 Can Fit A couch, chair, chest of drawers, mattress set, boxes and small items OR 85 Standard File Boxes
10x10's (10.0x10.0x10.0)
Can Fit Standard furnishings from a one bedroom apartment with a refrigerator or washer and dryer, plus boxes and small items OR 170 Standard File Boxes
10x20's (10.0x20.0x10.0)
Can fit Furnishings from a three or four bedroom apartment/house with major appliances or can hold a car or truck